Services
Electronics Development
I can design and assemble electronics projects for people.
I have been interested in electronics since I was about 6 years old. My parents bought me several kits, which I assembled. And I have soldered kits before I was 10. I'm particularly skilled with the Arduino platform. I also know AVR, XMega, STM32, ESP430.
I have worked on several projects in the last few years, including PCB design and microcontroller programming.
Examples of work
CSIRO GPS tracker - I programmed the chip and designed the circuit board
Arduino robotics - I made an obstacle-avoidance robot
Raspberry Pi telepresence robot - As featured in my projects
LED strober - Flashes LED strips at different frequencies. Bluetooth control.
Pricing
I am fairly relaxed with pricing, due to low competition. Pricing is negotiable, depending on the project.
Base rate:
$50 per hour (plus electronics costs) *(see note below)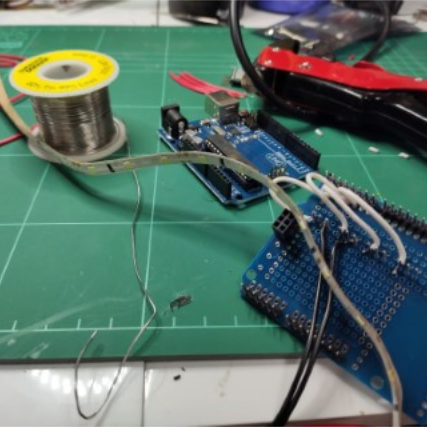 (Pictured above is a WIP project that I made for someone)
Electronics skills
Ohms law - voltage, current, resistance
Schematic symbols
Knowledge of most components - resistors, capacitors, transistors, ICS, regulators, LEDs, coils, photodiodes, etc
PCB design with KiCAD
Prototyping with breadboards and protoboards
PCB Design
Yes, I can design PCBs! I use KiCAD. It's free and open source, but it's used by CERN so it's definitely powerful enough.
For manufacture, I usually use one of the cheapest providers available. I can also use an Australian/NZ service if you need the PCBs sooner.
Electronics Equipment I own
Good soldering iron (temperature adjust)
Multimeter with capacitance, frequency
Digital signal analyser - Saleae Logic 4
Various components - resistors, capacitors, buttons, protoboard, wire, LEDs, transistors, regulators, displays, and more
Breadboards and lots of breadboard wires
Solder sucker (Desoldering)
Good wire stripper
Equipment I have access to (via Hackerspace/makerspace)
Oscilloscope
Variable power supply
SMD rework station
Small 3D printer
Laser cutters
Microcontroller Development IDEs experience
Arduino IDE
STMCubeIDE for STM32 (Eclipse)
Atmel Studio for AVR
CCStudio for MSP430
PlatformIO for Arduino, AVR, etc
Further pricing notes
If you work for a business or organisation with limited funds (eg. CSIRO) I can offer my services at a lower rate.
*Why charge so low?
I really enjoy electronics projects
I don't get a lot of them, so they don't pay the bills
No local competition - don't feel bad for undercutting anyone's services
A lot of electronics is soldering, cutting wires, and usually a quick bit of programming, so the work is rather spaced out.